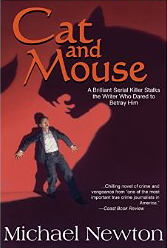 He sat quietly in his soundproof, windowless basement trophy room, surrounded by the spoils of his hunt, planning his next in painstaking detail. The game required restraint, vigilance. But he hadn't thought twice about the pseudonymous letters he'd sent to Thomas Edward Bender on Death Row.

In Bender he'd seen his soul-mate. But Bender was caught. Howard Michael Starr—man of a thousand faces, who wielded his knife like an artist, leaving no traces at all—was free….

Adam Reed witnessed Bender's execution. Now as he sorted through Bender's last effects, preparing to write his biography, he found letters signed "Michael Sturgess," P.O.B. Santa Rosa, California.

Sturgess was more than a fan. He wanted to get into Bender's head, to know his every thought and feeling. Then Reed read about the Santa Rosa Slasher, killer of twenty-three women, suspected of seven more. That was when he informed the authorities and agreed to become the bait to lure a possible suspect into the noonday sun….

In this terrifying account of a serial killer and the writer who becomes his prey, Michael Newton has fashioned a diabolical novel that will hold you hostage until the last heart-stopping page.

"A chilling novel of crime and vengeance from one of the most important true crime journalists in America." —Coast Book Review text.