The Executioner #270, Judgment Day

The Conspiracy Trilogy Book III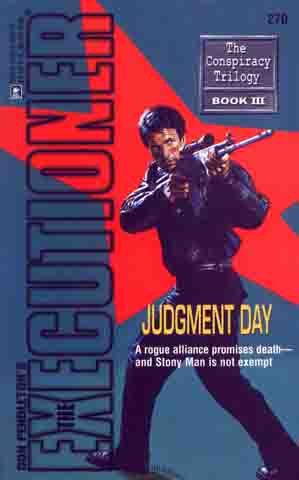 MORTAL FRIENDS

A blood pact between a corrupt CIA spook and an ex-KGB official is about to nuke the Cold War back into grim reality, and the eleventh hour finds Mack Bolan on the final battlefield in Russia, his brother Johnny as his comrade in arms. If their luck runs out, it will mean global slaughter with deadly aftershocks.

Cut off from his sources at Stony Man, frozen out by allies who may have crossed the enemy line, Bolan places no bets on who'll be standing when the last shot is fired.

The Executioner has fought tough odds before and come through standing. Whatever is waiting when the smoke clears, he's ready--even if it's an old friend.

The Executioner: Judgment Day

(The Conspiracy Trilogy Book III)

by Don Pendleton

Mass Market Paperback

May 2001; Gold Eagle

ISBN: 0373642709