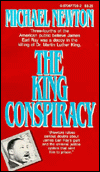 THE STUNNING STEP-BY-STEP ACCOUNT OF THE EVENTS THAT LED UP TO THE MURDER OF DR. KING AND THE ROLE PLAYED BY JAMES EARL RAY

The main point of Newton's account is that for over a year before Dr. King was murdered, Ray had been a fugitive from prison with little or no money. For the forty-two days after the assassination Ray traveled in Canada and Europe and spent more money than he could have gained by his own means. "Someone supplied Ray with a large sum of cash and, obviously, made connections for him outside the United States," says Michael Newton.

THE KING CONSPIRACY

Michael Newton first became interested with the assassination of Dr. Martin Luther King, Jr. in 1973 while studying political science at California State University. His preparations for writing The King Conspiracy included three years of correspondence with James Earl Ray, contact with the FBI and questioning of the defense attorneys and others who were directly involved in the case.

Holloway House Pub Co

January 1988

Paperback - 251 pages

ISBN: 0-870-67729-2